I originally wasn't going to comment on this since it's a US issue that doesn't directly affect us. However, when I saw the video from the Chairman of the FCC lightheartedly defending the decision to repeal net neutrality, I was so angered that I dropped what I was doing to write this post.
The Video
In Ajit Pai's video entitled "PSA from Chairman of the FCC Ajit Pai" or "7 Things You Can Still Do on The Internet After Net Neutrality", this scumbag lawyer equites the repeal of net neutrality to defending freedom. The message is so laughable that it feels like a parody or a joke, but no this is the actual position Mr. Pai is defending.
Today in the US, the Federal Communucations Commission repealed this important legislation which takes away freedom of choice from millions of Americans. But, according to Mr. Pai, that's ok because you can still do these "7 Things". So what are the items in his list? Let's take a look:
You can still gram your food
You can still post photos of cute animals
You can still shop for your xmas presents online
You can still binge watch your shows
You can still stay part of your fave fandom
You can still ruin memes
???
Number 7 is not a mistake, the video literally only shows 6 items after starting off with the statement that there are "7 Things …". If you don't believe me, you can watch the video yourself:
https://www.youtube.com/watch?v=LFhT6H6pRWg&t=18s
If you do decide to subject yourself to it, please take a moment to downvote it as Reddit has decided to try and make this the most downvoted video of all time.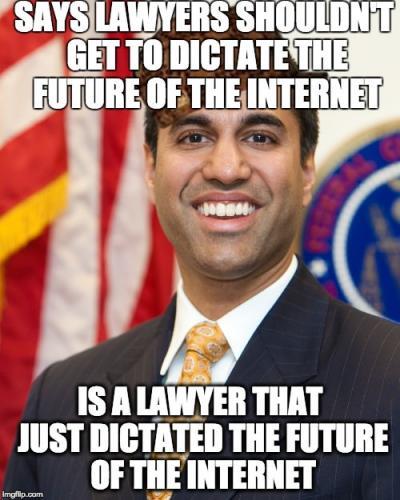 Why I'm So Mad
The video is an absolute outrage as it preys on people who do not fully understand what net neutrality is and tries to shift the conversation so that (1) repealing net neutrality is restoring freedom, and (2) that this is a lighthearted subject that you don't really need to worry about.
Having spent half my adult life dedicated to public education, one of the things I hate most above all else is the perpetuation of ignorance. This video is nothing but propaganda making light of a topic that everyone should be concerned about.
Not only does this video bring zero value to the conversation, it offers nothing to even try and support its principle argument that Ajit Pai plan is to "restore Internet freedom". The video opens with Ajit Pai addressing the fact that "recently, there's been quite a bit of conversation about [Pai's] plan" but then follows it up with nonsense skits that are cringy and awkward.
At the very least, they could have either (1) been honest and addressed their audience with respect by speaking to them like adults or (2) been entertaining. Neither happened here.
What's the big deal?
If you're not aware by this point, the laws that protected net neutrality made sure that Internet service providers treated all internet traffic equally, without discrimination. What this means is that your access to Netflix is just as fast as your access to DriveMarketing.ca. The service provider is not allow to decide that one type of traffic has more value than the other and cannot artificially slow down your access to one or the other.
So why would this matter to a service provider? Why would they want to throttle a service? Simple, let's say they want people to pay a premium for access to Netflix. If you don't pay, watching a show will take longer to load and may not play at full resolution. You want to fix this? Great, pay Comcast an extra $25 a month and your Netflix traffic won't be slow anymore.
How does the above scenario sound anything like freedom?
What Really Happens After Net Neutrality
So what implications does this change have for Americans trying to access the Internet? Let's take a look around the world at some other countries to see how they are impacted by the lack of net neutrality laws:
In Conclusion
This is a sad day for our neighbors to the South. I can only hope that the backlash from this decision forces the US to restore net neutrality either by legal force or simple reasoning. I am always grateful that I live in a country where our leaders understand the importance of Internet access and recognize net neutrality as a serious issue that concerns all citizens.
"[It is] essential to keep the freedom associated with the internet alive. The idea of throttling certain sites or charging extra for certain services just does not make sense and if we're going to continue to ensure that … digital technology and use of the internet is the lever to create economic growth and opportunities for citizens right across this country, we need to continue to defend net neutrality and I will,"
- Justin Trudeau, Prime Minister of Canada, November 2017
Source: https://www.ctvnews.ca/sci-tech/trudeau-very-concerned-about-u-s-plans-to-roll-back-net-neutrality-1.3691028