Instagram has been on a non-stop roll in its efforts to become more "business-friendly" over the past few months. Each new tool and feature is clearly designed to create a win-win-win scenario for itself, its users, and the brands looking to connect with their audience with less friction than ever before.
As more of these business tools are rolled out to create a seamless shopping experience, and more creative tools are added to enhance the entertainment value of the platform, users are showing less resistance to interacting with brands that understand how to use this popular platform. In fact, 80% of Instagram users follow at least one business, and view their favourite brands Stories or visit their profile daily.
Our article on Choosing the Right Social Media Accounts covered one of the (then) more recent releases in IG direct shopping tools for businesses, and how we helped one of our clients take advantage of it before the feature's Shopify tie-in limitation could put them behind the pack.
This month we want to take a quick glimpse at each of the powerful marketing features that businesses are already taking advantage of on Instagram, and highlight prominent new tools coming down the pipeline very soon.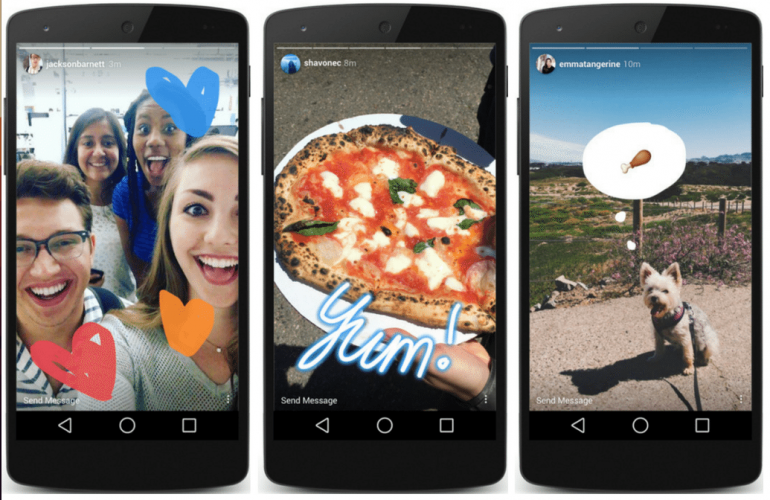 HOTTEST AVAILABLE FEATURES
Stories – Instagram's Answer to Snapchat
Now almost 2 years old since its debut, it's remarkable to look back and see how it only took a few month's after Instagram's release of its copycat Stories tool for it to surpass the popularity of Snapchat's original version. Here are a few ways this constantly revamped feature has provided value to marketers:
If you have more than 10K followers, you can add links to your IG Story that allow audiences to "swipe up" for more information. This helps to bypass the well-known "click link in bio" roadblock that discourages users from advancing in your sales funnel.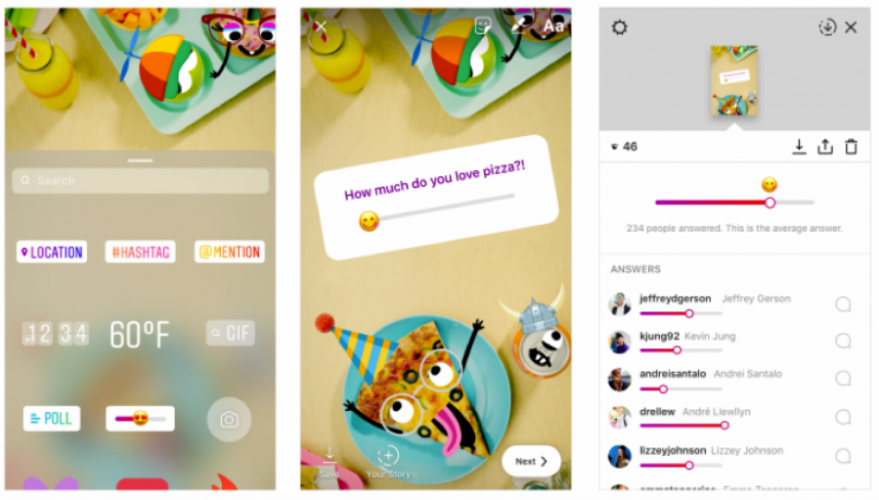 The Poll sticker and its brand new counterpart the Emoji Poll Sticker are some of the best user engagement features for inspiring audience participation. You can ask users to vote and share their opinion, which counts towards positive signals in the IG Algorithm to enhance your profile's visibility in your followers' regular Feed.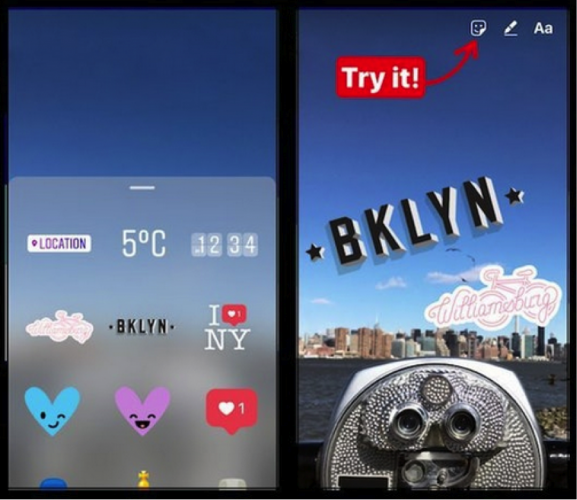 Using the Hashtag and Location stickers will improve your chances of ending up in the "holy grail" Explore Feed. You can create unique Brand or Campaign specific hashtags, as well as popular Content hashtags to reach a wider audience. In yet another Snapchat imitation, exclusive "geostickers" are also available for select cities.
Live Stories will notify your followers to check out your latest content right away, urging instant participation – usually out of FOMO curiousity. These are best reserved for announcing big exciting news, hosting Q&As with your audience, or joining a time-sensitive trending discussion gaining attention on social media. You can save your broadcast to your Story and optimize it with hashtags and geotags as soon as you wrap up.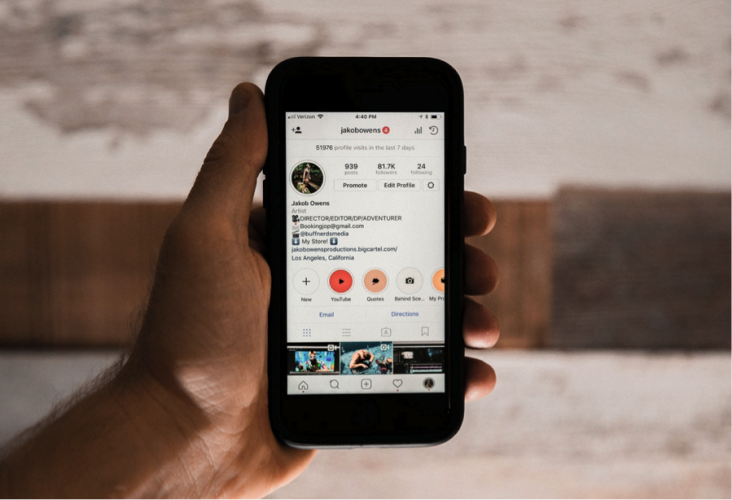 Story Highlights are a great way to repurpose your most engaging Stories after they expire and continue amassing views and likes from them. They're useful to keep IG users lingering on your profile for longer than they normally would with only a regular Feed to scroll through.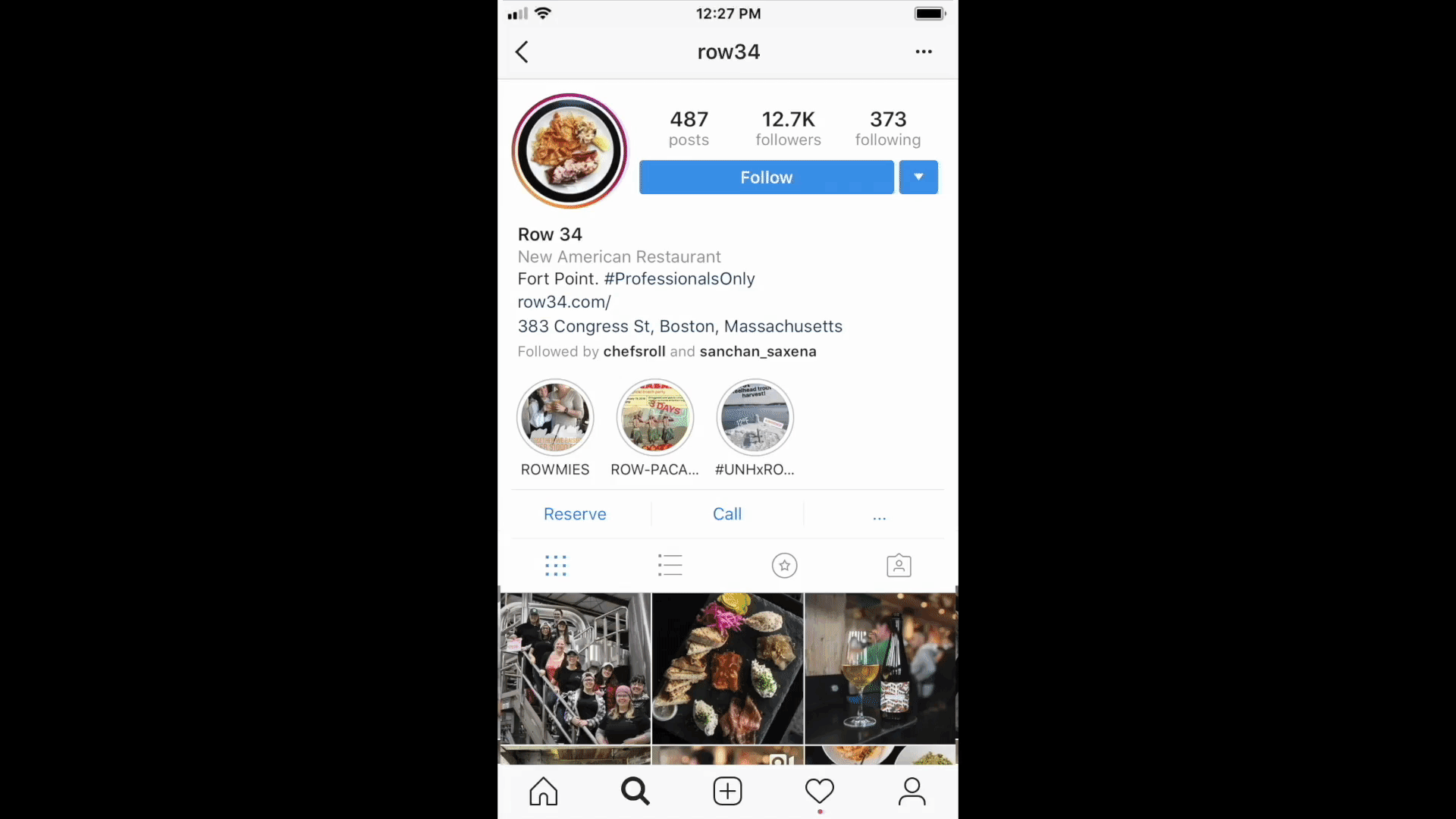 Call To Action Buttons
In its latest effort to become a one-stop shop for any kind of business transaction, Instagram has joined efforts with third party partners that allow users to directly Book, Get Tickets, Reserve, or Start Order(s) with companies online. These CTA or call-to-action buttons introduced in May are currently available to select business profiles that use:
Acuity
Atom Tickets
Booksy
ChowNow
Eatstreet
Eventbrite
Fandango
GrubHub
MyTime
OpenTable
Reserve
Restorando
Resy
SevenRooms
StyleSeat
Tock
Yelp
Soon, these CTA buttons will become available to more businesses via additional third-party partners, including:
Appointy
Genbook
LaFourchette
Mindbody
Schedulicity
SetMore
Shedul
Vagaro
These action buttons are likely going to become one of the most useful new features for every IG Business profile to take advantage of in the next few months.
Shoppable Posts
You can transform your inspirational social media channel into an actionable direct sales channel by setting up a shopping section (A.K.A. "catalog") on your Facebook Business Page, then connecting it to your Instagram account and tagging your merchandise the same way you would tag a person.
Here are some step-by-step instructions to help you get set up:
https://later.com/blog/instagram-shoppable-posts/

If you don't have a Shopify or BigCommerce online store, and want to strengthen your own e-commerce website's organic SEO rather than your Facebook business page, we can help you set up a work-around for this feature's current limitations.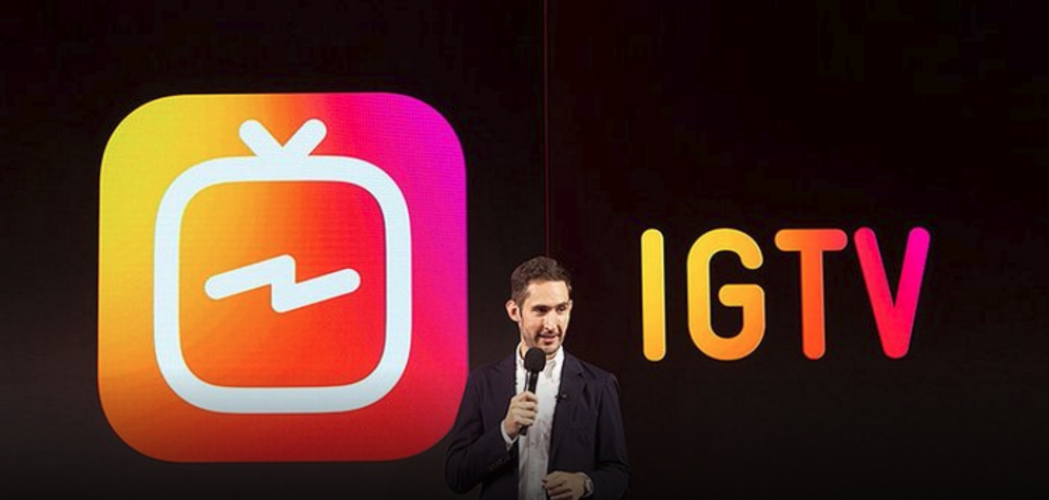 JUST RELEASED / COMING SOON
IGTV – Instagram's Answer to YouTube
Last Wednesday, Instagram launched its new long-form vertical video feature IGTV (Instagram Television) to the public along with its accompanying stand-alone app. Its main draw is to allow content creators to go beyond the 1-minute restriction of regular posts and the 15-second restriction of IG Story videos.
Currently, content creators with significantly larger followings can post hour-long videos, while regular accounts have a 10-minute limit. While the IGTV feature is not yet directly monetizable, it's easy to imagine how IG and its parent company (Facebook) plan to handle app updates once audiences are already hooked on its fresh long-form content. IG may end up rolling out the equivalent to YouTube video ads or paid channels.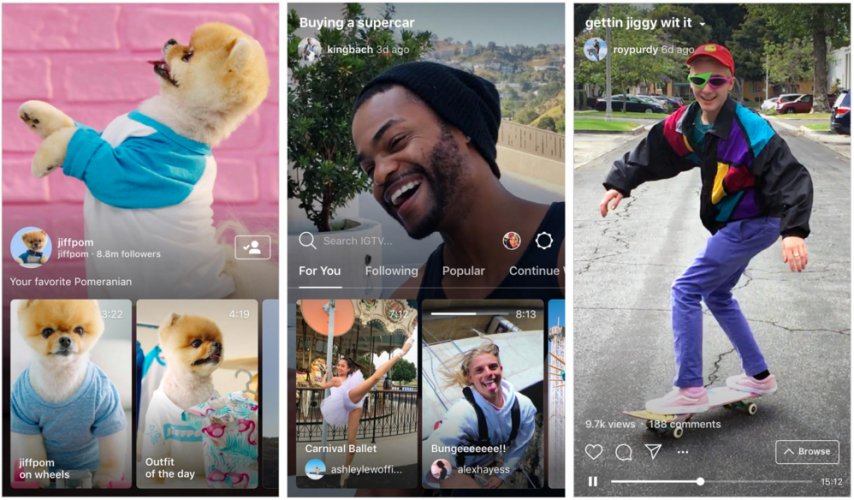 How can you take advantage of this new feature? Consider engaging with your existing follower base in a new way by providing valuable information or entertainment that lends itself well to longer formats.
Can you do a "Behind The Scenes" series to showcase how your merchandise is sustainably sourced or meticulously hand-crafted? Can you do a "How To" or "DIY" series to share some of your industry's insider knowledge with your followers and gain trust as an expert in your field?
The main thing to note as a business is that creating appealing and high quality long-form content is NOT an easy venture, but can be highly rewarding for user engagement if done well.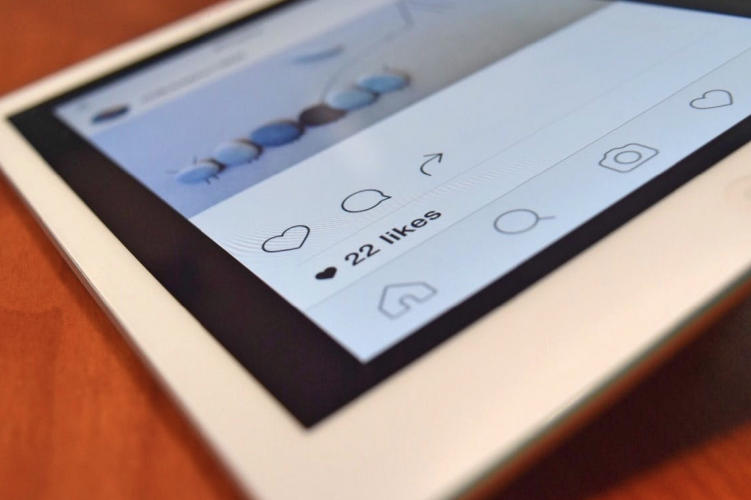 Turning Organic IG Posts Into Ads
IG Business account holders are expected to receive an update in the next few weeks that their organic Instagram posts can be converted into Paid ads via both the Power Editor and Ads Manager tools.
The Good News: Until now, the only way to increase the visibility of an organic post was to "Promote" it (equivalent to Facebook's "Boost" feature). With this new update, you will not only be able to keep all the original hard-earned likes and comments, but also keep track of both the Organic and Paid metrics.
The Bad News: For now, businesses will only have the capacity of creating an ad sourced from either Single Video or Single Photo Feed posts. This leaves out Carousel, Stories, Branded Content, and IG Shopping posts. Chances are these will become available options once IG works out any kinks in its phase-by-phase rollout of the long-awaited feature.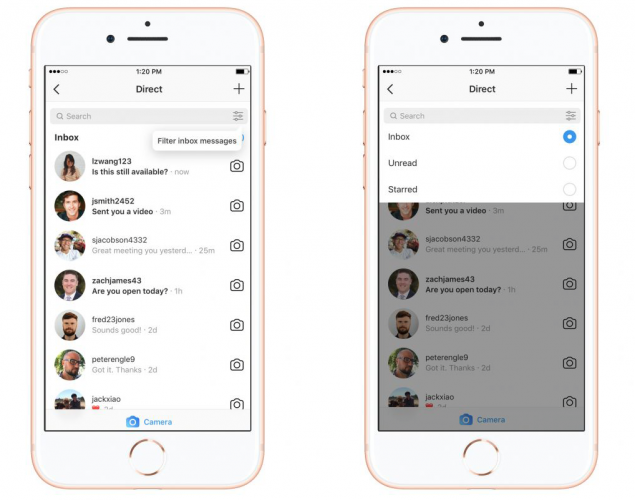 Quick Reply in Direct Inbox
Instagram recently simplified its messaging tool for businesses by filtering important new customer messages in the main Direct inbox instead of the Pending folder, so you can respond to potential leads sooner. It also introduced a "starred" feature for highlighting conversations to help you keep track of messages that still need a follow-up.
Yet another upcoming addition to its messaging tool will be the possibility of "Quick Reply" messages, similar to those seen in Facebook's Messenger app or Google's Gmail.
The most impressive aspect of these automated replies will be the customizability of the available messages. Meaning a one-click UNIQUE answer can be chosen when replying to common questions pertaining to YOUR particular business. Rather than sending off a transparently canned response, the exchange will feel more authentic to the customer without draining your social media management team's manpower.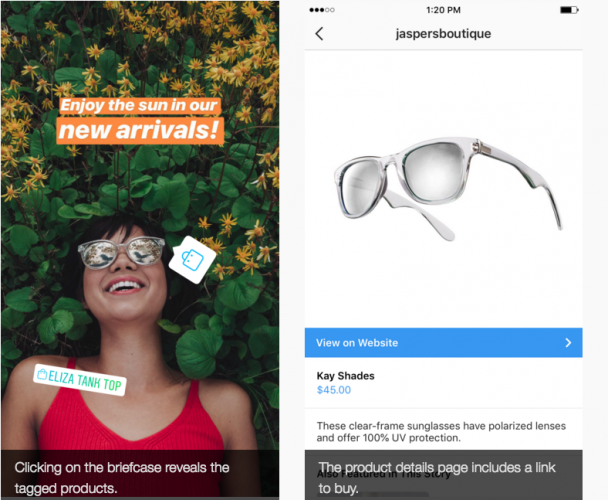 In-App Payments
In May, Instagram began quietly testing an important new feature available to only a few select users: in-app purchases. This native payment add-on allows you to save your debit or credit card information with an app-exclusive security PIN, making it possible for business transactions to be completed without ever leaving Instagram.
Saving payment information directly to the app will give Shoppable Posts and Stories a much higher rate of conversion in the future.
STAY TUNED: MORE IG UPDATES PENDING
Instagram is on its way to becoming one of the top leading online shopping platforms, particularly for targeting teens and young adult audiences who migrated off Facebook once everyone's parents and grandparents began crowding it.
While some of these features are currently exclusive to only certain brands or locations, and others are still being tested in stages, we can expect big waves from IG in e-commerce trends once it has fine-tuned the full in-app shopping experience for both users and marketers alike.
We recommend you check back regularly on Instagram's press release blog here for updates on these and any other hot new features: https://instagram-press.com/