Website designers are often asked how they can compete with modern DIY website building platforms that "threaten to make their jobs obsolete". The answer is actually quite simple, but often requires a metaphor to contextualize it effectively.
What's the difference between taking a portrait in a photo booth vs. hiring a professional photographer to do headshots? How about the difference between eating out at a decent restaurant vs. grabbing a trio at a McDonalds drive-thru?
Quality product and service
The truth is, real businesses don't use Wix, SquareSpace, WordPress, or Weebly. And those that do often make the choice either out of inexperience, or desperation concerning time/price. For small businesses with budget constraints, or a company needing a temporary "quick fix" for a time-sensitive reason (perhaps an upcoming grant deadline with a website URL prerequisite in the application form) – these are helpful and accessible tools.
But for companies looking to maximize their ROI with a long term solution that aligns with their future marketing goals, a DIY website will not only fall short but often set them back in SEO performance.
The value of custom-built sites
The ROI of a custom-build website is significantly higher than template sites because they are always the most current in terms of functionality, design, and security when they are first built, and they are much more easily scalable to grow with your business and adapt to any changes in best online practices.
If you find it logical to take into account how long you might own a new car when considering which one to buy, then it shouldn't be a big leap to consider the lifespan of a website when investing in your marketing plan.
A well-built site will produce results for 5+ years, while a limited template site or one that cut corners during development will need to be redesigned within 2 years or less. A site that is effective for more than double the amount of time of a hastily constructed site will have more than double the ROI.
Holistic Website Design
The word "holistic" has been watered down by self-proclaimed health gurus in recent years, but all it means is taking an approach that looks at the big picture of any system, rather than focusing on individual components. One of the biggest advantages of a high-end custom-built website is working with professionals who can offer a well-rounded marketing analysis before writing a single line of code.
Again, let's consider a relatable metaphor like IKEA furniture. Sure, you can "hack" a few different items together to create a "custom" cabinet the same way you can play around with the code of a template site to make it suit your needs. But you'll still be trying to conform your brand's needs to the site, rather than the other way around.
You can be more strategic when you hire a professional agency, and your branding will be much stronger when the site is designed to fit your company, rather than trying to get a template to fit with your brand.
Marketing With Custom-Built Websites
During production, the website agency you hire becomes an extension of your marketing team. They'll look at who your target audience is, how best to reach them, and how the site should function to cater to the potential customers' needs. Every detail from navigation menus to landing page forms will be tested for optimal performance and seamless UX.
The site will also be optimized page-by-page during development in order to help the search engines read every element effectively. This dramatically improves your site's chances of showing up as a relevant search result for the end user, beyond what simple keyword research can accomplish.
Quick Recap: Templates vs. Custom-Built Sites
Who doesn't love a good bullet point list? Let's take a look at some of the main differences in advantages between these two approaches at a glance: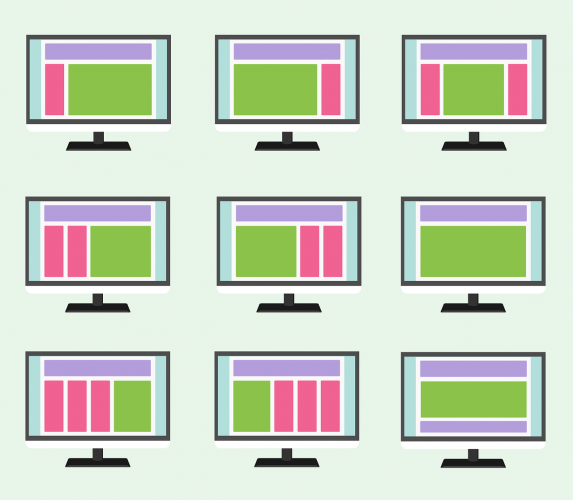 TEMPLATE WEBSITE ADVANTAGES
Reduced timeframe for development phase (i.e. up and running much faster)

Reduced short-term cost (including start-up fees like hosting)
Low tech (no coding or design skills necessary)
Short-term convenience
CUSTOM BUILT WEBSITE ADVANTAGES
More flexibility in design to stand out and align with brand image

Fewer limitations in functionality, especially for e-commerce sites
More security (less likely hacking target; plus ongoing protection updates)
Easier maintenance (developers can offer ongoing support services)
Optimized for search engines with cleaner code and site structure
Less chance of antiquated code limited to certain browsers or devices
More effective usability testing and UX upgrades
Tailored marketing strategy to align site with growth goals
Long-term convenience with higher ROI
How can you tell if a site is custom-built or template?
Most web developers are transparent about whether they intend to use a template site as the baseline of their "customized" design. But if you come across a developer who offers a price or timeline for a site built from scratch that seems too good to be true, take a look at the source code of their past work for yourself.
The following article breaks down what clues too look for in the /themes/, /template/, or /skins/ of the CSS files:
https://www.primedesignsolutions.com/learning-center/difference-template-custom-built-websites/
How do I know which type of site is best for my business?
There are a lot of factors that can determine what kind website project makes sense for your business model. If you're not sure whether your company size or industry will make the investment worthwhile, get in touch with us for a consultation. As much as you're interested in finding the right developer for you, we're also interested in finding clients that we can collaborate with successfully.
If you understand the true meaning of "simple" when it comes to website projects, then you're already more likely to make full use of our creative and technical expertise.